SIGNATURE STYLE
Refined and distinctive, my signature style is characterized by a dreamy, edgy, and spontaneous aesthetic with a strong emphasis on storytelling. With years of experience in the field, my style is evident in the images I've captured for renowned fashion brands, development projects, lifestyle, travel agencies, hotels, and, of course, unforgettable weddings worldwide.
What sets me apart is my ability to fuse my unique style with my vast expertise and a keen eye for beauty to deliver the photos of your dreams. You can trust me to turn your wildest fantasies into stunning reality, and while it may sound like a cliché, I assure you that it's the absolute truth.
QUALITIES
My passion lies in capturing you - the essence of who you are - in the most authentic and beautiful way possible. I want to capture your emotions, your actions, and your fleeting moments of joy, all while showcasing your natural beauty.
To make your memories complete, my team and I scour the world for the most breathtaking locations, cozy atmospheres, and enchanting sunsets. We work tirelessly to ensure that your wedding day, weekend, or even week is captured in vivid detail, allowing you to relive those precious moments for years to come.
Each wedding or event is unique, and I take pride in bringing my signature dreamy photography style to every occasion. I believe that photography should be organic and spontaneous, reflecting the true essence of the moment. By taking an unobtrusive approach, I am able to capture the essence of your event while allowing you to relax and enjoy the day.
Ultimately, my goal is to provide you with photographs that allow you to look back on your special moments with fondness and joy. I take great care in creating images that are timeless, elegant, and utterly unforgettable, so that you can treasure them for a lifetime.
DETAILS, DETAILS AND ... DETAILS
Naturally, we aim to capture all the unforgettable moments from the time you start getting ready until the opening dance. It goes without saying that these moments are among the most precious memories from your special day.
However, there's so much more to capture beyond the obvious. We pay close attention to the smaller details, as they can be just as significant and beautiful. The way the sunlight reflects off your wedding dress, the intricacy of your shoes, and the intimacy of your rings touching are just a few examples of the little moments we treasure.
Drawing on my experience in the fashion industry, I bring a unique perspective to your wedding day. I appreciate the finer details and seek to capture them in a way that truly symbolizes the essence of your special day. By focusing on the details, we can help create a more complete and richly textured story of your wedding day, a collection of images that you'll cherish for years to come.
So, while the big moments are undoubtedly important, we believe that it's the little moments that truly set your day apart. They capture the essence of your love, your story, and your personality, and we make it our mission to capture them in a way that is beautiful, authentic, and unforgettable.
MY APPROACH
At the heart of my approach is the belief that every wedding is as unique as the couple themselves. That's why I take the time to get to know you and your vision for your special day.
I start by listening to your ideas and asking questions about your ideal wedding. What does your dream wedding look like? What are you most excited about? What are your expectations for your photos?
By understanding your vision for the day, we can create a plan that meets your needs and exceeds your expectations. We'll work together to determine the ideal locations, settings, and lighting to create stunning, one-of-a-kind photographs that perfectly capture the essence of your special day.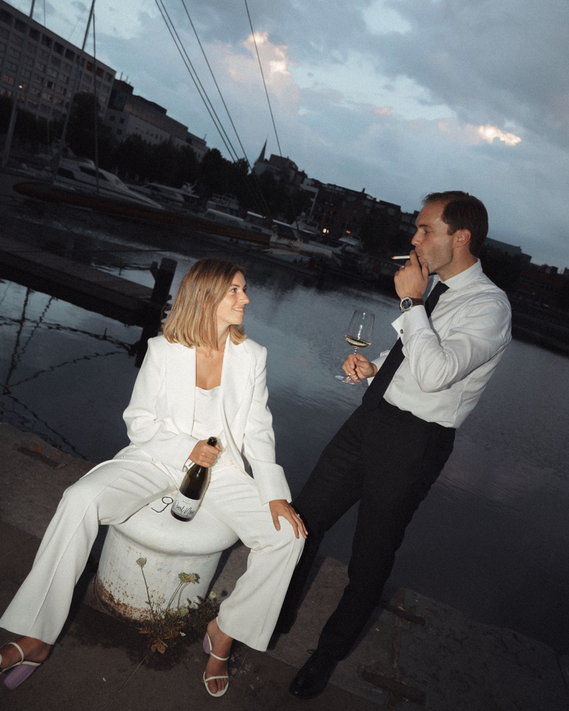 EDIT AND DELIVERY
After your wedding, I take on the responsibility of selecting and perfecting every flawless photo. With careful attention to detail, I meticulously examine each image and curate a selection of the best ones to be edited.
I prioritize quality over speed, taking my time to ensure that each photo is polished to perfection. Your satisfaction is my ultimate goal.
You can expect to receive your high-resolution photos via We-Transfer within 20 days of your wedding. But as a special treat, I'll also provide you with a preview of the photos just a few days after your big day. You'll be able to relive the memories and share your favorite moments with your friends and family on social media.
Nice extra? A few days after your party you will already receive a preview of the photos. This way you can imme- diately enjoy some atmospheric snapshots. Great if you want to share something on social media the day after.
WEDDING ALBUM
View your wedding photos on an iPhone screen where Instagram significantly reduces the resolution? That's sin. Fortunately, becau- se of my good photo material I can see your images beautifully enlarge. Razor-sharp, every image again. So ... why only look at a screen when you can also hold a beautiful album?
The wedding albums I offer are available in leather, wood and linen.
There are three sizes: 30x30 cm, 35x35 cm and for your (grand) parents you can perfectly order a replica of 25x25 cm.
About 50-70 photos fit in your album and the price is from €550, depending on the size and cover you choose.
Because these are super quality albums, the delivery date after request is at least 2 months. But it's definitely worth the wait, trust me!
YES I DO
After reading this text, if you already thinking: yes, I want this! Or are there still some questions, something not clear? Be sure to let me know this, I'll be happy to answer them.
Because for the day everything has to be perfect!
Hopefully we will hear each other soon in a zoom meeting, then we will get to know each other a little better and you will immediately see if there is a match.
I'm looking forward to it!